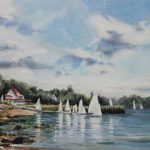 Poppy is planning a watercolour workshop in the Digby area in the spring. The venue she has chosen is the Annapolis Basin Conference Center in Cornwallis, NS. This is the venue where we held the 2015 watercolour symposium sponsored by the CSPWC (Canadian Society of Painters in Watercolour)
The dates: May 15 (and possibly May 16). If there is enough interest in a two day workshop she would happily extend it into the second day.
If you want to attend, please reply and tell her if you prefer a one day or two day workshop. If you would love to to come but can only make it to weekend events, let her know that too.
Cost: $75 per person per day.
Registration: reply to poppy@poppybalser.com or by phone (902) 247-1910