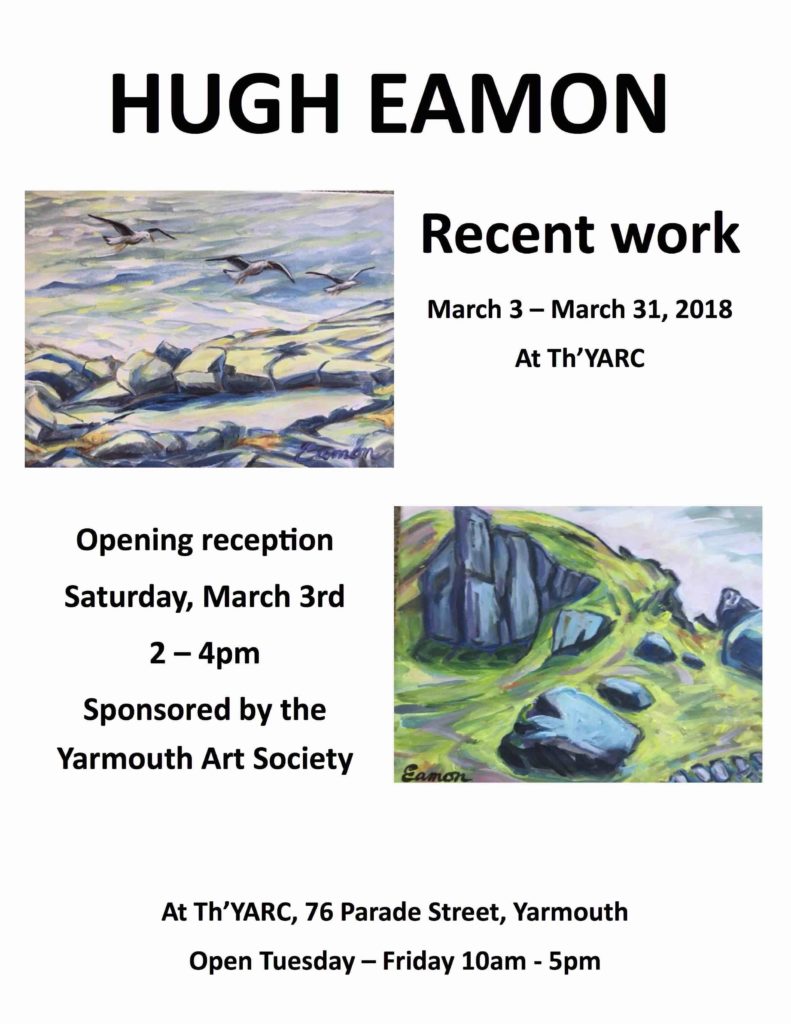 An exhibit of recent paintings by Hugh Eamon will be shown at Th'YARC from March 3″ to 31". An opening reception, hosted by the Yarmouth Art Society, will be held Saturday, March 3″, from 2:00 pm. until 4:00 pm.
A native of Brockville, Ontario, and a graduate of the Ontario College of Art, Hugh has made his home in Yarmouth for nearly 50 years, since the summer of 1969. Hugh has been an active player in the arts community, and has made significant contributions to the practise and development of the arts here and throughout the province. He is known as a teacher, a painter, and an advocate for the arts.
He has been active in the Yarmouth Art Society since first moving to Yarmouth and is a Life Member. He was a founding member of Visual Arts Nova Scotia (VANS), giving a unifying voice for professional artists. He was also the first project manager for the building that became Th'YARC, and can tell many stories of those early years!
With fellow artist Alex Gigeroff, Hugh created a number of public murals in downtown Yarmouth. The largest and best known is the colourful triptych in Alma Square, with its assembly of familiar Yarmouthians mixed with historic figures and the purely fanciful.
Recently Hugh has been working with Mark Connell to organize and present the sketchbooks of Helen Weld, and to edit letters of Lucy Jarvis for publication.
Hugh's subjects are often the rugged landscapes and seascapes of Yarmouth county, painted with his distinctive palette. His work is in collections throughout Canada, the United States, and Germany.
The public is invited to meet the artist at the opening reception on March 3″, to talk about art, and to see his new work. Light refreshments will be served.